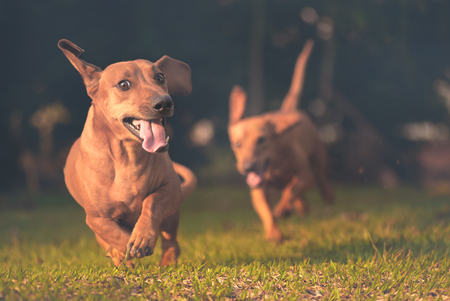 The health of your Dachshund puppy should be your top priority. While getting pet insurance is one way to help them while they're ill, you also want to prevent illnesses when you can. NuVet Plus can help. It's a synergistic formula of antioxidants, amino acids, vitamins, and minerals, supporting the health and development of puppies and young dogs. Here are more reasons why you should consider putting your dog on NuVet Plus:
It supports immune system development
Developing your puppy's immune system and keeping it strong is crucial in today's environment. Your puppy is exposed to all sorts of toxins, fertilizers, and pesticides in your house or their food. These can leave their immune system compromised, but a good way to counteract it is to give them daily supplements like NuVet Plus.
Provided nutrients help with growth and health
NuVet Plus provides vital nutrients that will support your puppy's health and, subsequently, their growth. Proper nutrition is linked to almost every part of a dog's body—from their muscles to their digestion—so making sure that your puppy is receiving all of their required nutrients is a must if you want them to grow up (and stay) healthy.
It fortifies bone structure
Strong bones are important; it's why we were always encouraged to drink milk as kids. While dogs shouldn't drink milk, they can take supplements to help strengthen their bones and fortify their bone structure.
The formula promotes a healthy skin and coat
By getting the required vitamins, minerals, and other nutrients NuVet Plus provides, the result will be clearly seen. Better health results in a better skin and coat for your dog, which boosts their overall happiness.
Here at Patti's Dachshunds, we believe that each of our puppies should live long and happy lives with their new owners. That's why we recommend NuVet Plus, and why we provide a 1-year Health Guarantee for all of our adopted puppies. If you're interested in adopting a Dachshund puppy, then take a look at our new litters who are anxiously waiting for a home of their own!