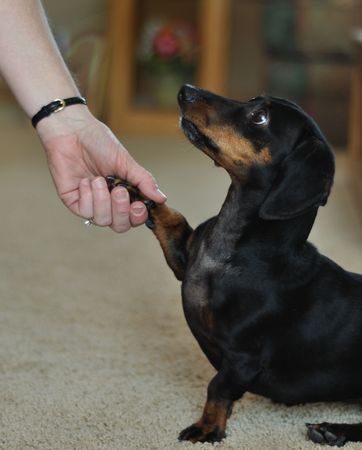 We love our puppies and every breed has unique characteristics and needs. Dachshunds are a social and affectionate breed.
They love every interaction with you and the praise you give them, and simply petting and grooming them brings them a lot of happiness.
If you feel like you can't think of other activities for you and your dog, we can help you out:
Simple Games & Socializing
Hiking a mountain probably wouldn't be fun for your Dachshund, while they have plenty of energy; they have small legs so distance isn't a good idea.
So, playing a basic game of fetch would be fun activity for you and your dog. Because they are so social, taking a trip to the dog park will let them see new places and meet other dogs.
Agility Courses & Obedience Training
Dachshunds are smart and have a natural temperament to learn new tricks. You and your puppy will enjoy it and really get to bond. Agility courses are good because they can do it in short bursts, however, be cautious with any jumping obstacles because they could injure their back.
They also would do well as therapy dogs for hospital and nursing home because they are very affectionate and hardworking. They would need to be evaluated for behavior and temperament but generally this breed does well.
Our dogs think the world of us, that's why it's important to spend quality time together. Here at Patti's Dachshund Farm, our dachshunds grow up with love and affection. We're dedicated to breeding healthy and happy dachshunds. If you would like more information, please contact us today.