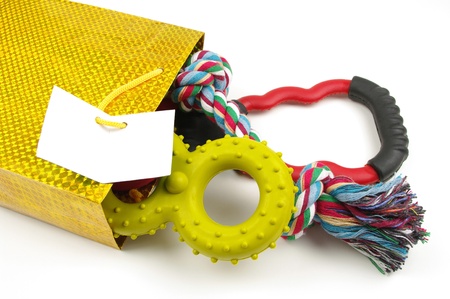 If you have a dachshund puppy in your home, then you know how important it is to provide it with plenty of dog toys that it can chew on and play with so it doesn't find its way to your furniture or electronics.
To avoid a hassle, take the time to invest in toys that will keep your puppy occupied.
So which toys should you choose? There are a bunch of great ones out there that would be excellent choices for your puppy.
The KONG Classic Dog Toy has turned into a favorite for many young dogs. Available in a range of different sizes, you can fill these toys with peanut butter, yogurt, or treats and watch your dog spend hours playing with it.
The Duckworth Large Yellow Duck Dog Toy is another great option for puppies. While it looks like a normal stuffed animal, it's tough enough to stand up to the relentless chewing of your puppy, and it doesn't have much stuffing inside, so your dog will spend a long time chewing on it without doing any destruction to it.
The KONG Flyer Dog Toy is perfect for those who want to take their puppy into the backyard and teach them how to play catch.
Lastly, the Benebone Bacon Flavored Wishbone Chew Toy is ideal for puppies who like to attack their bones from all angles. There is so much to chew, and your dog will spend days, weeks, and potentially even months entertaining itself.
At Patti's Dachshund Farm, we know the value of investing in quality toys for puppies. We also know how important it is to provide people with healthy, happy dachshund and wiener dog puppies. We have them for sale, and we would love to tell you more about them and why they grow up to be such great dogs.