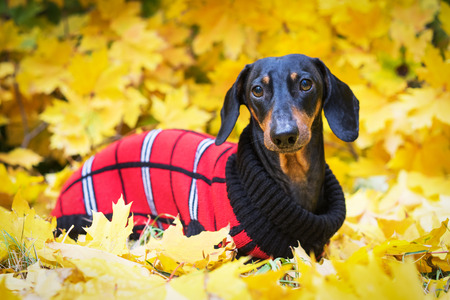 There's nothing quite like a cool, fall day spent cuddling up with your dog in front of the fire place. However, as much as we and our pets may love fall, there are plenty of dangers lurking out there for our four-legged family members. So, to make sure your dog has a great fall, check out the following fall safety tips:
Watch out for ticks
Just because the weather is getting colder doesn't mean ticks aren't around. In fact, the piles of leaves on your lawn are a perfect place for ticks to hide, so to keep your dog protected, be sure to eliminate all leaf and garden litter. You should also be using preventive products and checking regularly for any ticks on your dog.
Beware of rat and mouse poisons
As rats and mice start to move indoors to shelter from the cold, more people end up using rat and mouse poison to keep them away. Rodenticides, however, are highly toxic to dogs, so if you have to use these products, do so with extreme caution.
Stay away from mushrooms
Most mushrooms aren't toxic to dogs, but some are, and it's that minority that you have to worry about. Since non-toxic mushrooms are difficult to distinguish from toxic mushrooms, play it safe and keep your dog away from all mushrooms.
Take precautions during fall holidays
Halloween and Thanksgiving mean lots of people coming over to your house. If your dog is the skittish kind, then make sure to take special care of them. Warn visitors ahead of time, and consider keeping your dog in a separate room, away from the visitors and business.
Keep an eye on your food
In addition to having many visitors over on those fall holidays, you'll also have lots of food. Food that is, potentially, toxic to your dog, such as chocolate or raisins. To protect your dog, keep the food out of reach and clean up immediately after having a meal.
At Patti's Dachshund Farm, we want all dogs to have a safe and happy fall seasons. So, if you want to learn more about keeping your dog safe this fall, or if you're thinking of adopting a Dachshund puppy of your own, give us a call at 334-385-2600 today!