Dachshunds are a full-blown cultural phenomenon. Maybe it's their adorable and unique body shape, or maybe it's their spunky personalities – but they're everywhere.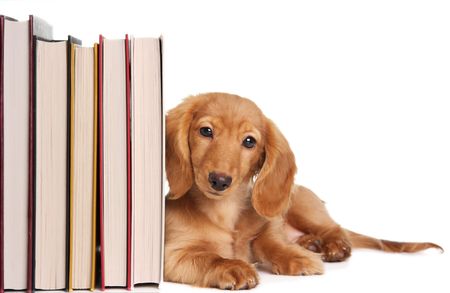 One of the earliest representations of the dachshund in modern memory, before they became as popular as they are today, was the 1966 film "The Ugly Dachshund." The movie did a great job of depicting the simultaneously adorable and completely devilish personalities that dachshunds are known to possess – but movies aren't the only place where you'll find these mischievous little canines. There are several books that do a marvelous job showing off how special dachshunds are.
First up is the adorably named children's book "Pretzel" written by Margret Rey. The story is about a dachshund named Pretzel, who is the longest dachshund in the world, according to the New York Public Library's review! Pretzel does his best to win the affections of another little doxie across the street named Greta.
Next up is "Whistle for Willie" by Ezra Jack Keats. Willie's human, Peter, tries to play tricks on him by whistling for him while hiding in a box. But does Willie fall for it?
"Lumpito and the Painter from Spain" by Monica Kulling has a cover image reminiscent of that classic scene in "The Ugly Dachshund" where the pooches completely destroy the house using art supplies – but this pup might be a little different. In this story inspired by true events, a photographer travels from Italy to France along with his dachshund to meet the famous Picasso, who affectionately named the little pooch "Lumpito."
For a more adult interpretation, there's "A Last Goodbye" by J.A. Janice which tells the story of a woman about to be married on Christmas Eve. But before the wedding can take place, the woman's grandson finds and rescues a dachshund that's tossed out of a car. The mystery of this dog and the implications of her arrival are the last thing she thinks she needs right now.
For a more complete list of books about dachshunds, check out the full list from the NYPL. And if you've been inspired to adopt a dachshund and add the joy of one of these pups to your life, Patti's Dachshund Farm has new litters of puppies that can't wait to meet you. To learn more about adopting a pup or the adoption process, call us today at 334-385-2600 or 713-591-7412.