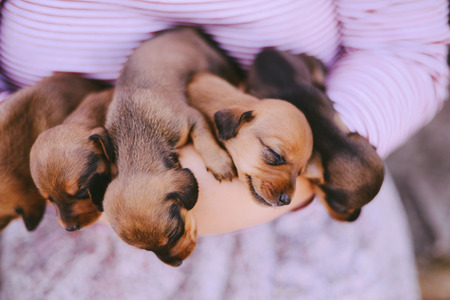 Bringing home a new puppy will be the best decision you make this year. However, there are some things to think about to ensure your puppy makes a smooth transition into his or her new home.
Here are a few things to avoid when bringing home your new dachshund puppy from Patti's Dachshund Farm.
Picking up your puppy alone
Your dachshund puppy's first car ride experience determines his response to future car rides. A stressful, scary first car ride that frightens your puppy will make it difficult to convince him to hop in the car to go to the dog park or vet in the future.
To combat the risk of a traumatic ride, choose a helper to accompany you when you go to pick up your puppy for the first time. This person could either sit with your puppy to soothe and comfort him or drive for you while you keep an eye on your new pup. Your helper could also keep the puppy from jumping into your lap on the way home as you drive. Make sure to let your puppy use the bathroom and eat a bit before leaving!
Introducing your puppy to a hectic home environment
Special occasions like birthdays and holidays typically include large groups of people, loud music, and general festive chaos. Though introducing a puppy to its new family during a holiday sounds like a picture-perfect moment, puppies can get overwhelmed in a new place full of energetic strangers.
Instead, try to present your dachshund puppy into a calm, low-key environment to give them time to adjust to their new atmosphere. Allow him to explore at his own pace, and give him some space to figure out his new place. Be sure to puppy-proof your home before bringing home your new furry friend and put hazardous things (and things you don't want chewed on!) up and out of sight.
Bringing your new puppy home without a game plan
Before bringing home your new puppy, hold a family meeting to discuss the new house rules to accompany this new addition. Decide where the puppy will sleep, who will feed him and when, where in the house he might not be allowed to roam, etc. Getting everyone on the same page before bringing your new friend home helps you avoid confusing your dachshund puppy.
Make sure to prepare your home by cleaning up and obtaining the proper supplies for taking care of your puppy, such as food, a crate, chew toys, treats, a collar and leash, etc. Creating a temporary living space for your puppy can allow you to keep him in one space in the house while you start house training him and to prevent him from eating something he shouldn't. Preparation is crucial in transitioning your puppy from their old home to yours.
Trying to decide on the best puppy breed for you and your family? Consider a miniature dachshund from Patti's Dachshund Farm for an adorable pet compatible to any size home or family.